Biography 1 | 2 | 3 | 4 | Photos | Sounds | Testimonials | Newsletter
---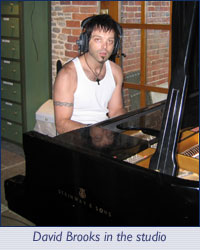 Hello and welcome to my first newsletter!

I thought it was about time I did one, especially as my website has been up and running for nearly a year!

Firstly, I would like to thank everybody who has supported me and this site over the past year - I had a lot of fun putting it together and receiving your e-mails - keep 'em coming!!

The past year has been very fruitful for me. Last May I had the opportunity to go to Grenada, singing for Virgin with a band made up of great friends and musicians. The gig was to celebrate Virgin's first flight to Grenada and it was fantastic - The stage was on the beach, so during soundcheck if it got too hot we ran straight into the sea! My good friend Nick Eede (cutting crew) joined us over there and got up to do a few songs - it was a special moment because Nick and his band were Richard Branson's first signing at Virgin - great having them both up on stage!! Add a calypso band, lots of rum punch and wild dancing.... You know we had a great time!! The same band and I are now preparing to fly to Shanghai on 6th May for more of the same - I'll let you know how it goes!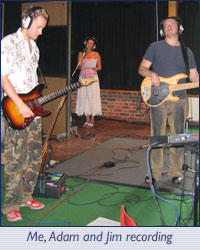 After Grenada, I began preparations for going into a live studio to record my own material. I've always had demos of my stuff but wanted a live band to record it. I was very fortunate to get a great studio with a huge live room in Surrey for a couple of days and took the band - David Brooks (piano and keys) Paul Cuddeford (guitar) Angela Murrell (backing vocals) Adam Evans (guitar) Richard Brook (drums) and Jim Winchester (bass). We recorded two songs, "Goodbye" and "Bring it back" which you can hear on my song page. I'm really happy how they turned out and after an acoustic set supporting Rob Reynolds at the Metro in Oxford Street, I got a great response. Peter Cunnah (D:ream) is currently re-mixing them for me and my plan is to put all my favourite songs together on an album. I am currently writing with Paul Cuddeford and David Brooks so please check this page for more news on this and hopefully some more solo gigs.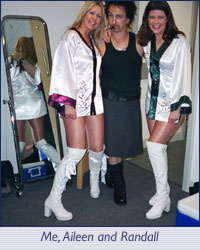 As The Bjorn Again fans already know, we have just finished a 7 week tour supporting Shania Twain in the UK and Europe. We were quite nervous when we started, not only due to getting used to a stage "in the round"!! This meant mine and Aileen's (Agnetha) "choreographed" dance moves went out of the window and we spent most of the set on opposite sides of the stage! Remembering not to bow with my bottom to the audience was the hardest bit - got a few cheers for that in Paris though!!
Once we settled in, we had a great time and were made to feel so welcome by band and crew alike - there were 150 of them so never got all the names! However, it became apparent we had a few budding "Dancing Queens" in the catering crew and production, so on the last night, four of the girls dressed up in our blue costumes and performed, dance routines and all. Everyone got involved, we even had pyro to mark the occasion! The last week was party week, culminating in an end of tour party in Frankfurt. Lots of limbo dancing and cocktails got the night under way and we had a lovely thankyou from Shania. Add sing-songs on the ferry from Helsinki to Sweden (Mr.Liberace himself, Benny!), a confetti trashed dressing room in Antwerp (long story), you can tell we were pretty sad to leave.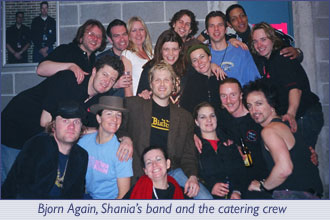 Well I think that's all for now, please check the Bjorn Again Website for up and coming shows, and I will keep you posted on all my new developments!!
TJ xx